Kriti, the dog from Crete Island, Greece.
brand: Kurazo/ I am not a bitch I am a Beachdog!
These are the news:
I am now 17 years old! And that is a fact! I am GOOOOD!
15th of April I had my birthday....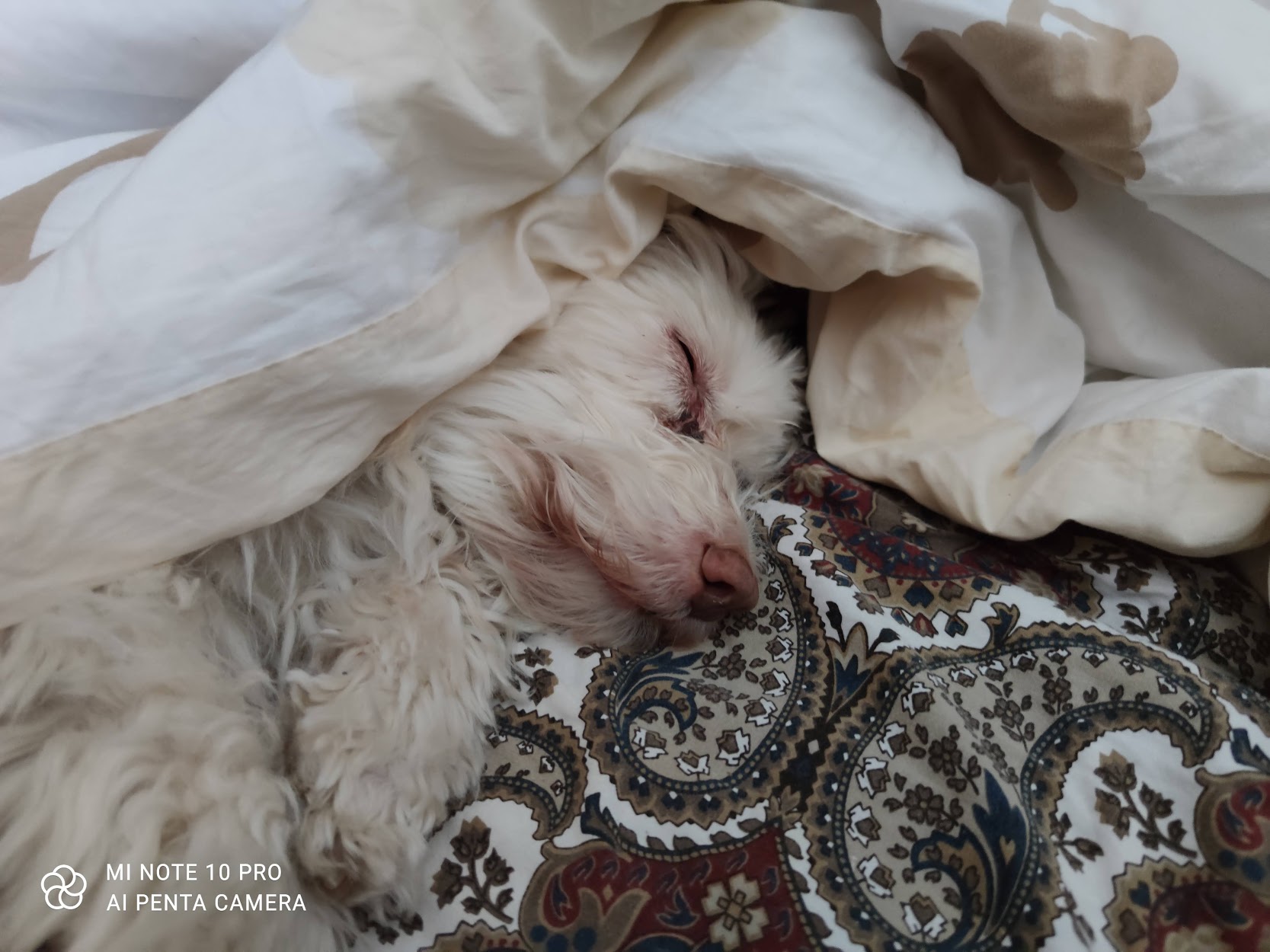 here I sleep in my father´s bed.....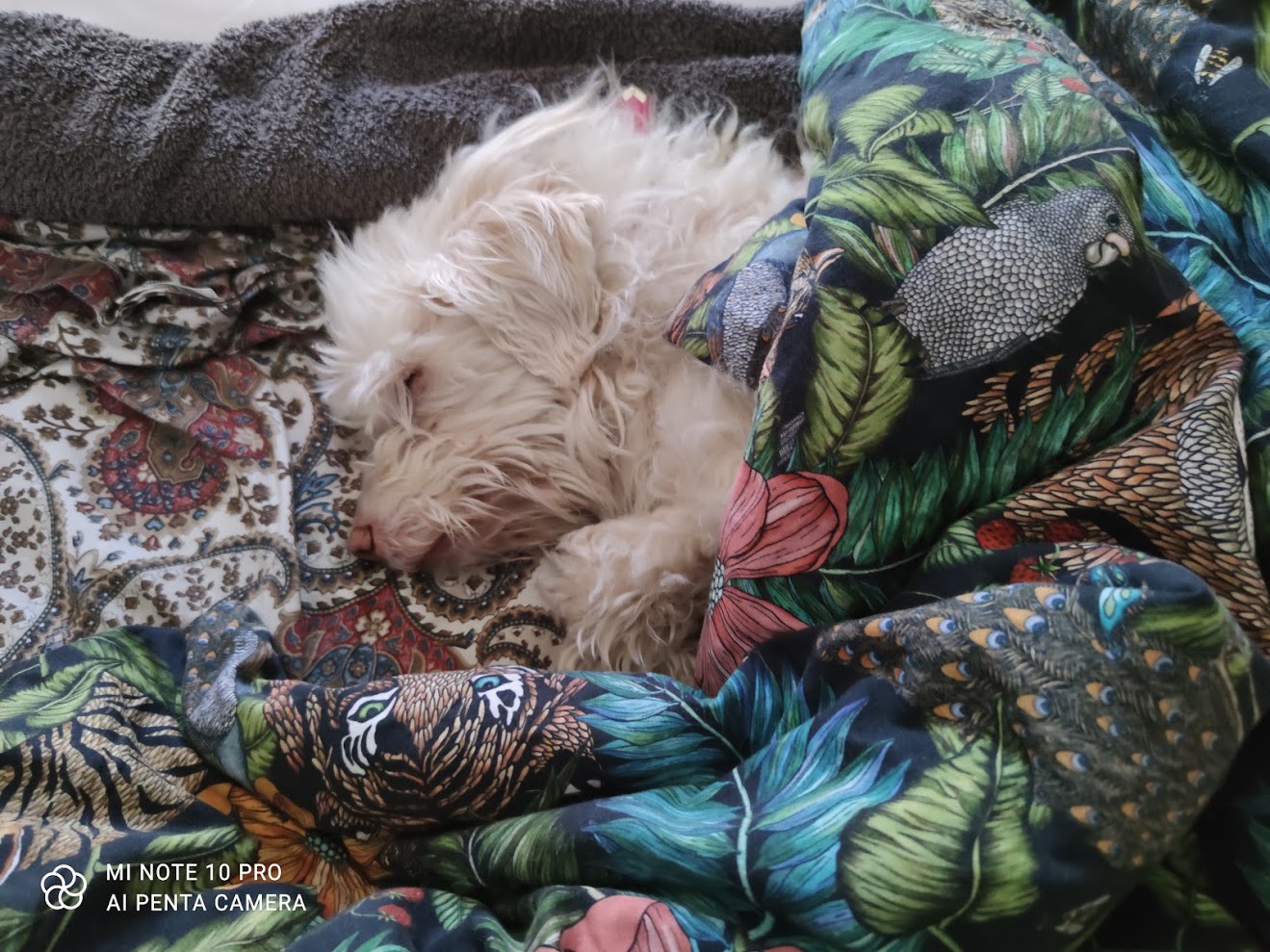 thats my favorite!!!
So it goes. Time is passing and we all get older and older. I still eat fine and get my candy sticks in the eveninjg. I also pii and poop ok.
So the dogs come and go in the neighborhood but I still just am here. Have a wonderful summer coming and just enjoy!
I am going to our island in the sun!!!
###
This is me a new day again 15th of December 2020.
This autumn has been really a pain. Everybody has been so careful not to visit anybody and thus I have not had any chances to bark at guests almost at all. But I sleep a lot and eat a lot and I like specially chicken food like chicken breast cut up and cooked together with rice. I dont like ready made dog food at all anymore. I pee and poop regularly and like running and jumping, I hope you saw my video... look below...
Christmas is coming so lets have a wonderful christmas time and be careful out there... wear masks, wash hands and keep your distance!!! Next year more stories...
Happy New Year to you all!
¤¤¤
This is me writing... 18th of August 2020.
I am still around and feeling fine. I am now 16 years and 4 months old. See I am hangiong in. I still move around elegantly and eat my meals. I love chicken file so that is my maine cours if you ask me... been to our country place and it was nice. Even though there is only a fox to bark at no cars and no other dogs. It is strange as we changed my diet over 2 years ago all those fatty lumps I had have vanished and I am better than ever. So the food you eat it very important. Hang in there, I for sure will. Regards to all my friends.
¤¤¤
April 15th 2019 I just have my birthday today!!!
Well, well, time has past. I am now 15 years of age! That is a lot of years for a dog. I feel very ok. No big problems, unless my couple of stiches in my side after a scissor hit my skin accidentally, partly my own fault. Well thats been fixed also. I eat 2-3 times per day and I am about 9 kg now. My furry fur makes me look bigger... I like tro go out for longer strolls couple of times every day. It is now getting summer, it is already very warm and sunny. In the summer I will lay outside ion the warm weather. There is a new dog nextdoor, his name is Mökö. Very funny finnish name on a dog. I will try to write again soon!
¤¤¤
March 2018, I will just get 14 years old!!!
Well, well, all my friends and the rest of you... as you will learn I am still around. Last year I got so upset with world politics I forgot to write my updates... This year I will be 14 yerars of age and I can understand the finale is soon approaching. But sofar I have been well, eating 2-3 meals per day and feeling quite good. I have some fatty lumps and bumps here and there in the skin but nothing of evil kind said the vet. My teeth are ok and the food and dogbites like bones I eat with good appetite. I go out 4-5 times every day and the poop and piip is just ok. I have some new dogs in the neighborhood both labradors, Topi and Mörkö. My only dogfriend here Monni past away 2 years ago. So I can see the new young dogs coming on and the oldies just fading away... My birthday is April 15th so let me know about you.
¤¤¤
June 2016, I am now 12 years old!:
Hello everybody! I am still around! There has been a long while since I wrote but thats mostly due to ther fact that times flyes! It is a really fine summer coming up, even if this weekend now 18-19th of June is crap, storm and rain a lot. But weather changes like all other things. I am feeling fine, just like when I was 5-10 years ago... no problem. Food i good, I get my bits of nice eatings and evening special bones etc. We are planning to go travelling with boat soon so that will be nice. My neighborhood dog named Monni (my only real dogfriend here) is getting real old, he is a Spanish Waterdog and got the genetic disease of hairloss 100%, and he is already 2 years older than me and not getting any better... so? Things do change as said earlier. I am nowadays resting during the day, having 2 meals a-day, so that I can sleep in the night. Sometimes in the morning I can go to the bed of my folks... specially if there is thunder, then I get really scared. I will write again... soon.
¤¤¤
January 2012:
Here it is! I finally got my own HarleyDavidson hat. It has room for my ears and a nice cap, it is real leather. I got it from the HD shop in New Port Richey, FL. I am so happy now. We have once again snow, snow, snow. Lots. It has been cold and getting even colder. Thats called winter. But as last year it will soon be spring, snow melts away and all is summer then once more. A nice hug to all my friends!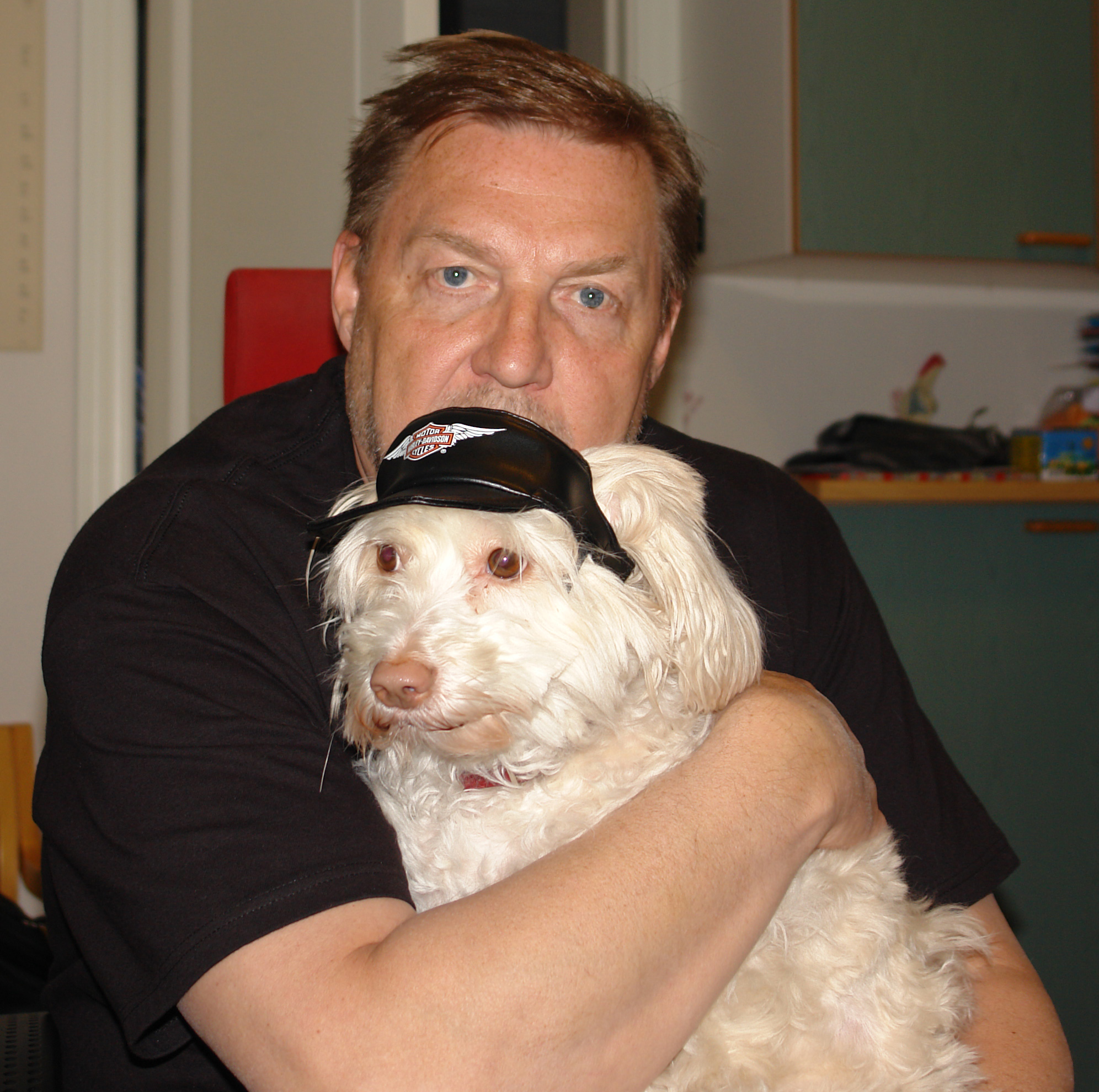 February 2011:
Many years has passed and I have been lazy writing. I am now 6.5 years of age and my life is steady as it goes. We have a very hard winter just going on and it has been freezing cold, still is, for weeks and weeks. I really hope spring would breake asap. I have been well and I am the ever better watchdog, looking out for all the goofs walking by. I also let them know I see them. I eat regularly but sometimes I pretend the food is not ok, so my folks give some meat bits in order to fake me. I dont buy that, you know, but let them believe I do. So in order for the great summer to come I wish you all a nice winter to go on... -26 centigrade this morning, nice!?
¤¤¤
October 2007:
Hello all who happens to come on my pages. I have been in deep sorrow. My big sister Vera has passed away 3 weeks ago. She had it very difficult to move, her back legs where not good at all. So my folk´s just had to put her to sleep. So now I live all by myself here. It is a little bit lonesome if you know what I mean. My folks was just a week ago down in Georgiopouli on Crete. On the beach they found me. I will put up some new pictures as we have the time. Hear from you all!
¤¤¤
January 2007:
Almost a year has past since I wrote here. I have been well, no health problems whatsoever. I really dont like the snow this time a year as my feet get cold and the snow gets attached to my feet making it difficult to move, but I have to get used to. Summer was very fine I was out at our country island place for many weeks. No snakes. I sleep now upstairs with my folks and I am very at ease there. So I have become one of the dogs in the neighbourhood together with all the others. I would like to have some mail from my English friends....
¤¤¤
March 2006:
Now I have been feeling ok. Some evenings I go up to my folks bed but then later I go down to my own bed for sleep. I bark at all strangers and I dont like people with walking sticks or other strange objects. One problem is that I dont really like to eat two times a day somedays I dont like to eat at all. It does not matter what the food is I just dont want to eat. The scary thing is the possiblity of the bird flu coming this way. I wonder if dogs can get it too, possbly yes. I wonder what then will happen. If you have the time please write a line or two I try to write here every now and then. Life goes on!
¤¤¤
November 2005:
I had my seconds periods in September and I thought I got pregnant and was to have puppies. I had a very difficult time so that I stopped eating in order to save the food for my kids and was looking for them and making beds all over the house. My people got very scared when I did not eat and took me to the nice veterinarian here. She gave me some hormones but they did not do much good. So finally I had to have an operation and my uterus was removed. Now I still have the stiches in my belly but today I feel much better already. So next week I will most likely be myself again. These things happen and anyway life goes on!
¤¤¤
July 2005:
This summer has been very fine here in Finland. The sun has been shining and it has some days been even warmer than on Crete Island! My only problem nowadays is that I don´t like food!? My folk´s give me dog food, sausages, fine dog food, meat and other good stuff and I just don´t like any of it. So thats it. I have to think about what to eat in the future. I have been to our island Houtskari and it was a real fine midsummer time we had there. No snakes! Then we went with the boat to the village and had some good things to eat, but just little! See the new pictures!
¤¤¤
January 2005:
I have been very ill, after I somehow injured my tail in mid September. First we tried to heal it with medicines but after six weeks my folks saw no other means than to cut the most of the tail off. So my tail is now only 5 centimeters long. But I feel much better now, no more infections and my mood is back to normal. I eat well and I am running and playing like I used to, they also say I am a very fine watchdog since nobody comes here without my approval. So life goes on and even if temperature is going down under zero centigrade, I have got my own warm coat for Christmas and I can be out without feeling any of the cold that's there. Things like this happen but everything is fine again. I even got a new bed, the first one was of Indian basket model, and when I had chewed most of it it got stuck between the teeth and my folk´s just threw the whole bed out the door. The new one is made of steel with soft cloth, so I cannot master that.
Happy Valentines day!
Please help Mrs. Wrobel at Little Noaks Ark in Hania, Crete, she was very nice and gave us very good advice! Help her help the animals left on Crete if you can!
¤¤¤
July 2004:
I was left alone with my sister on the beach outside the hotel Deep Blue Sea in Georgioupoli, Crete early in June 2004. My sister was taken care of by the hotel owner and she lives at their farm now. I hate cats and umbrellas, loud noises and screaming children. I love food, human fingers and toes. My folk`s now are Pia and Bernhard and their children Rebecca and Johannes. I was seeing a very nice Cretan veterinarian George Mousourakis, offices in Kalives and Vrisses, telephone Crete: 2825-0-32186, highly recommended! I was vaccinated and got my ID-electronic chip and my International DOG-Passport! There was some very interesting adventure with the travel agent before I got out of the Island but that I will tell about later! I now live in Finland together with Primavera, Pia and Bernhard's 9 year old dog. I have my own toys, I get food three times aday and I have grown from a mere 2.5kg to about 5.4 kg, 8th on of August 2004! I was on the local newspaper some weeks ago on one Saturday with text and a picture in Rebecca's lap! ½ page, Mrs Wrobel has the magazine and picture in her hand!!